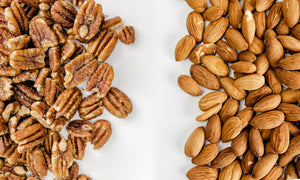 Sprouted Nuts & Nut Butters
We've Got the Nuts…and Nut Butters
We are pleased to announce our new line of certified organic sprouted nuts and nut butters. Grown on a small certified organic farm in Wisconsin, our nuts and nut butters are made using traditional preparations recommended by Dr. Weston A. Price. The nuts are soaked and then dehydrated for days before being packaged whole for snacking or using in recipes. The result is an incredibly tasty and crispy nut that we offer in 2 varieties: almond and pecan. These same nuts are used for our delicious nut butters, which are ground and mixed with organic coconut oil, raw local WI honey, and a touch of Celtic sea salt for a nut butter packed with plenty of crunchy texture. Your taste buds will be delighted!
More about soaked and "sprouted" nuts:
According to the research of Dr. Weston A. Price, using the habits of the healthiest traditional peoples as a guide, traditional communities instinctively understood that nuts are best soaked or partially sprouted before eating. We now know that nuts contain numerous enzyme inhibitors that can make them difficult to digest if consumed in excess. Nuts are easier to digest, and their nutrients become more bioavailable, when they've been soaked and dried naturally or under a very low heat. It is certainly worth the effort to make or purchase soaked nuts, as they are rich sources of natural oils, raging in total fat content from 60% to 80% of calories. Nuts like almonds and pecans have a high content of stable oleic acid, and thereby do not go rancid easily. Once prepared by soaking and dehydrating, they can be stored for many months at room temperature, in an airtight container. For more information, please read the Nourishing Traditions cookbook by our dear friend, Sally Fallon Morrell, which you can purchase here.