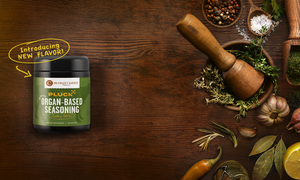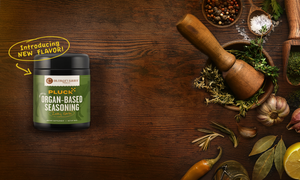 Our organ-based seasoning flavors, offered through our partnership with Pluck, are a delicious way to incorporate the health benefits of organ meats in a wide variety of your favorite foods. Used as a savory seasoning during cooking or on a finished dish, our Pluck Organ-Based Seasoning is made with 100% grass-fed beef, Redmond Real Salt®, and a blend of organic spices. No gluten, fillers, or artificial ingredients. Just natural deliciousness to liven up your tastebuds!
Now Available in original All-Purpose or our new Zesty Garlic flavor!
From Dr. Cowan
"Organ meats are a foundational food for many of the healthiest indigenous peoples throughout the world, who typically enjoy longer lifespans and lower instances of heart disease. One of only several animal-based sources of omega-3 linolenic acid, organ meats help with the production of important prostaglandins necessary for cell function, metabolic function, heart health, skeletal health, liver function, and prevention of inflammation.
This seasoning made from grass fed beef is a delicious way to enjoy the health benefits of organ meats in a wider variety of your favorite dishes. 
In good health,
Tom Cowan, M.D."